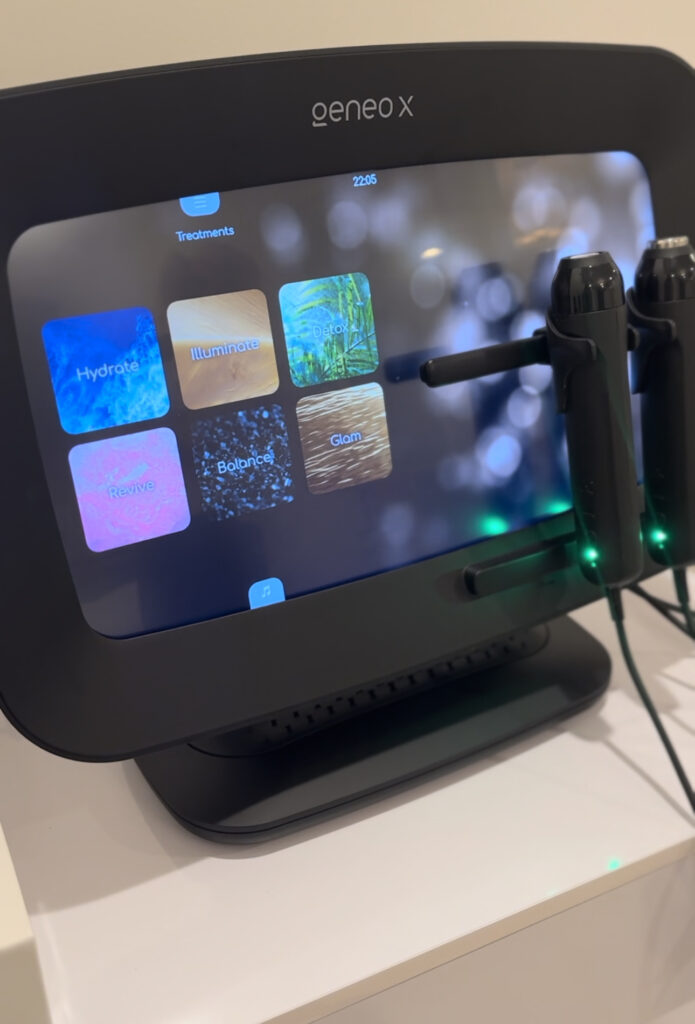 A closer look at the 3 steps of exfoliation, ultrasound and massage.
Our newest machine, the Geneo facial, is a revolutionary 3-step facial treatment that is designed to rejuvenate the skin and leave you with a youthful glow. The treatment uses patented OxyGeneo technology, which combines gentle exfoliation, ultrasound waves, and a relaxing massage to improve the texture, tone, and hydration of your skin. In this blog post, we will discuss each of the three steps in detail.
Step 1: Exfoliation or as Geneo has termed it, "Oxfoliation"
The first step of the Geneo facial is exfoliation, which is designed to remove dead skin cells, unclog pores, and prepare the skin for the next step of the treatment. The exfoliation process uses a special capsule containing sodium bicarbonate and citric acid. When the capsule meets the gel that is applied to the skin, it creates a chemical reaction that gently exfoliates the outer layer of the skin.
Exfoliation is an important step in any skincare routine, as it helps to remove impurities and dead skin cells that can lead to dull, tired-looking skin. The Geneo facial's exfoliation process is gentle and non-invasive, making it suitable for all skin types.
Step 2: Ultrasound
The second step of the Geneo facial is ultrasound. This step uses ultrasound waves to infuse active ingredients deep into the skin. A special gel containing hyaluronic acid, peptides, and antioxidants is applied to the skin, and the device uses ultrasound waves to push the active ingredients deep into the skin.
Step 3: Massage
The final step of the Geneo facial is massage. This step is designed to relax the facial muscles and improve circulation, which can help to reduce the appearance of fine lines and wrinkles. The massage is performed using a special handpiece that uses a rotating motion to stimulate the skin.
Massage is an important part of any skincare routine, as it helps to improve circulation and reduce tension in the facial muscles. The Geneo facial's massage step is designed to be relaxing and soothing, leaving you feeling refreshed and rejuvenated.
Pricing for a Geneo at Ashley McFarland Aesthetics: 
Signature Geneo Facial: $250
This non-invasive facial treatment exfoliates, infuses, and oxygenates the skin to improve texture, tone, and overall appearance. LED Light Therapy is included.
Deluxe Geneo Facial: $295
Our Signature Geneo Facial and Dermaplane treatment included.