Chemical peels transform the dead, dull skin into the bight & glowy skin you have always dreamed of.
Chemical Peels are a simple way of targeting and correcting multiple skin concerns. The benefits of a chemical peel include reducing fine lines and wrinkles, improving scars, treat acne, reducing age spots, & improving skin texture. By using a combination of acids, chemical peels breaks the dead & dull skin and creating a glowing skin appearance.
---
Let's Break Down the Different Chemical Peels at Ashley McFarland Aesthetics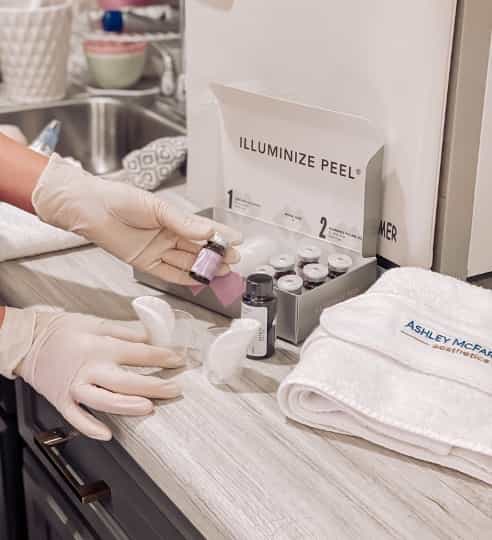 The 'Glow & Go' really lives up to its name!
The Illuminize Peel will leave the skin glowing with minimal to no downtime. This peel will only remove the outermost layer of dead skin, leaving a healthy glow. The Illuminize Peel is also a great place to start to see how your skin will react to a chemical peel! We add a Dermaplane prior to the treatment to enhance results and to provide extra exfoliation.
 1 treatment is $185. Series of 6 treatments is $1,025.
The Vitalize Peel is slightly stronger than the Illuminize Peel but is still minimal downtime. It may potentially cause redness and light peeling for 3-5 days. This is the perfect peel for people with mild skin concerns such as fine lines, sun damage, acne, & hyperpigmentation. Noticeable results after just one peel, very effective after 3-6 peels. We also add a Dermaplane to this peel to enhance results.
1 treatment is $225. Series of 6 treatments is $1,200.
The VI Precision Plus Peel promotes rapid cell turnover for improved skin tone & texture. It exfoliates and diminishes pigmentation, penetrates damaged areas, & smooths fine lines/wrinkles. This peel is for the person who wants to take a more aggressive approach to address their skin concerns. Peeling will usually last for 5-7 days. A Dermaplane may be added to this peel for an additional $50.
1 treatment is $350. Series of 3 Peels is $950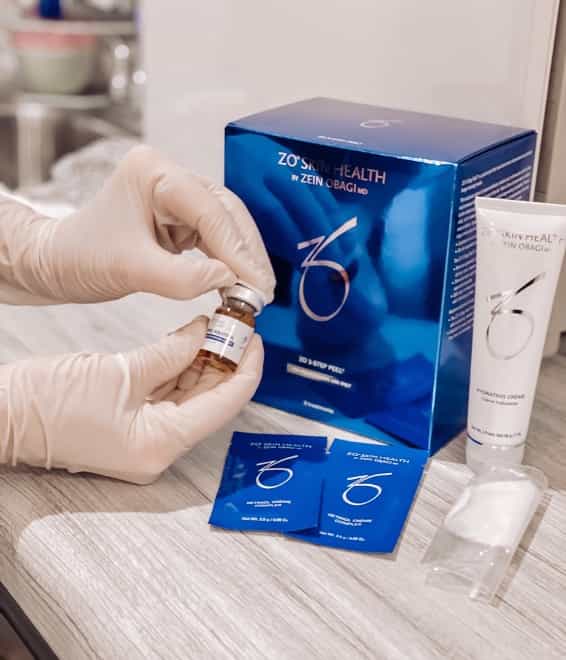 ZO 3 Step Peels
The ZO 3 Step Peel is the deepest peel at AMA. It utilizes a blend of exfoliants, retinol and multi-action agents to help improve overall skin health. The ZO 3-Step Peel evens skin texture for smoother, softer, and tighter looking skin. Key benefits of ZO 3-Step Peel include acne, sun damage, reduce large pores, & skin dullness. Peeling starts day 3, post-treatment, and can continue for up to 7 days. A Dermaplane may be added to this peel for an additional $50.
1 treatment is $350. Series of 3 Peels is $950
Dermaplane Service
A Dermaplane is a great addition to a peel to help the peel penetrate the skin deeper. Dermaplaning is a procedure that removes the top layer of the skin. This service aims to remove fine lines and wrinkles and deep acne scarring, as well as make the skin's surface smooth and glow.
Contact us today to schedule a chemical peel and reveal your most beautiful skin ever!