WHAT MAKES US UNIQUE?
Our internal mission is to provide optimal, excellent, safe aesthetic treatments in a first-class, inviting, and welcoming space for all. When you walk in the doors of Ashley McFarland Aesthetics, you will be treated with the utmost attention and care. Whether you've been coming to our office for many years, or if you are brand new to us and/or aesthetics, we will take great care of you and your needs. We want our clients to feel our mission statement inside and out.
---
WE GIVE YOU A PERSONAL EXPERIENCE
We are a small boutique aesthetic practice. Not a chain. Just one location. With this being said, we take extreme pride in providing our clients with an excellent personal experience. We get to know you and your needs far beyond just your skin and facial needs. Our clients are part of our work family and we enjoy a personal relationship with each person we treat.
---
WE ARE PART OF THIS COMMUNITY.
Every single person who works here at Ashley McFarland Aesthetics is a member of this community and has lived in Murfreesboro for years. Our kids attend school here, we are involved in community events, charities, and church in Murfreesboro. We are fully invested in what our business can do to help the people of our community.
---
WE ARE PROUD OF OUR TEAM OF HIGHLY QUALIFIED PROVIDERS
The staff at Ashley McFarland Aesthetics strives to exceed expectations in care and service in order to make your experience with us as comfortable and stress-free as possible. We have created a unique space where every single person is valued and treated like a VIP, and their self-confidence is increased with each visit. Below are our four providers, who all have one main thing in common: expertise in facial & skin rejuvenation.
Kristi Hutsell, Medical Aesthetician
Kristi has called Murfreesboro her home for 30 years! She graduated from MTSU and began a teaching career in the Rutherford County School District. She developed a strong passion for skincare and decided to make a career change and attended the Aveda Institute of Nashville to pursue a brand new chapter. She went to CoolSculpting University has been working with this machine for 6 years.
Kristi joined the AMA team in 2020 to continue to spread the word on how this incredible procedure can transform your body in ways you never thought could be corrected. Not only is Kristi the CoolSculpting Queen, she is the life of the party in the office. Come visit if you want a good laugh!
Ashley McFarland, WHNP-BC, MSN, RN:
Ashley is a Murfreesboro native with over 20 years of experience in nursing. She graduated from the University of Vanderbilt as a Nurse Practitioner in 2001 and has 12 years experience in the aesthetics industry. She and her husband, Shane, have 3 boys. Their family can be found on the baseball field, basketball courts or soccer fields most weekends with their boys.
Ashley strives to makes sure that every client feels seen and heard. She finds it incredibly important to focus on continuing education and staying up to date with the current research that happens within the world of aesthetics. Ashley always has a million things going on, but when you're with her – she is laser focused on serving you and your needs.
Blair Akers, RN, BSN:
Blair moved to Murfreesboro in 1997 and graduated at MTSU School of Nursing in 2006. After 10 years at Middle Tennessee's Medical Center as a NICU Nurse, she joined the AMA family in 2017 after her love for aesthetic medicine became her passion. Her aesthetic and medical knowledge runs deep and she is always learning and educating others, which is what people love about being in her care.
Blair is known for making clients feel incredibly comfortable with her deep knowledge of all things aesthetics. "Botox with Blair" is a client favorite!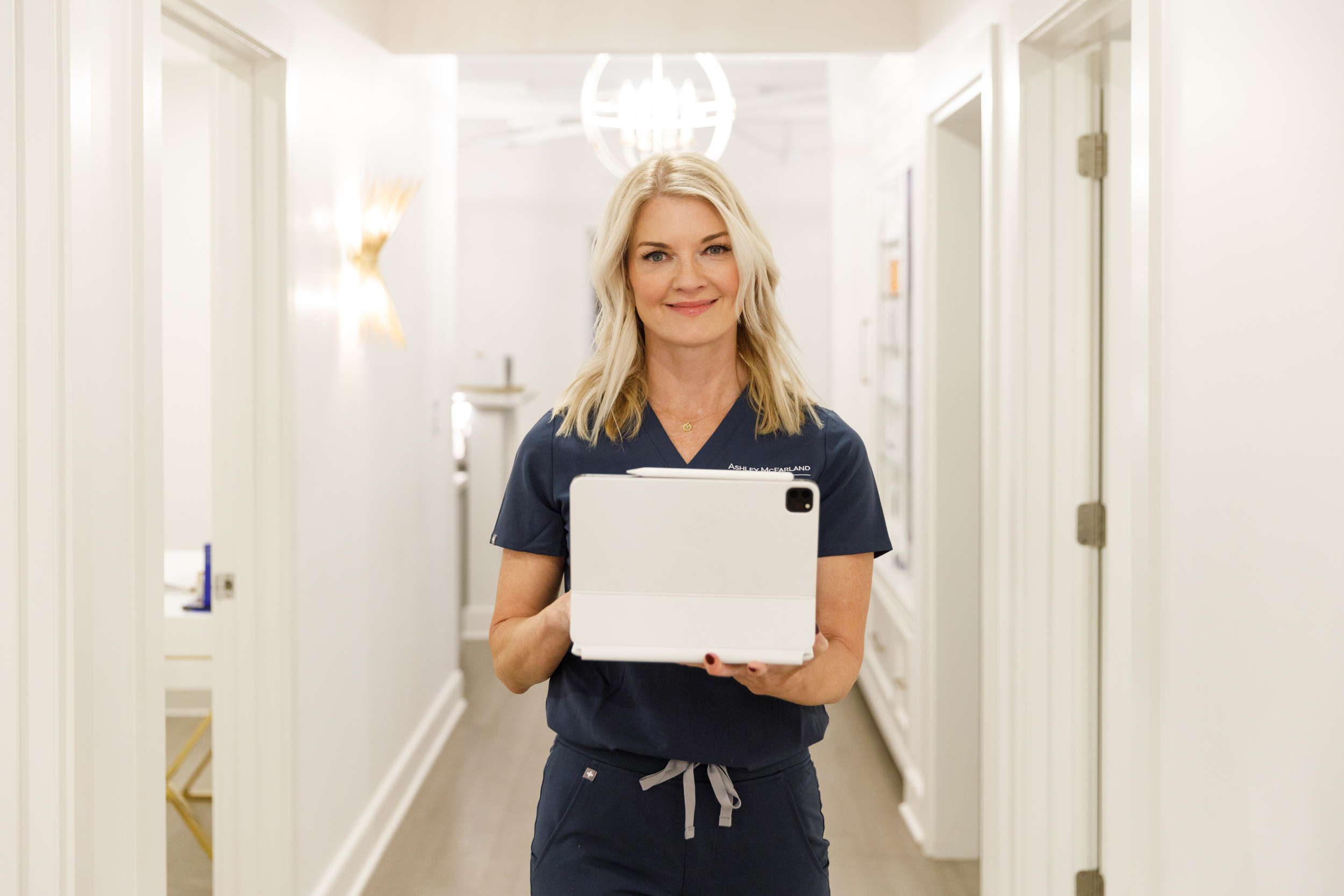 Tricia King, Medical Aesthetician:
Tricia was born and raised in Shelbyville and has resided in Murfreesboro for the last 11 years. She graduated from MTSU with a BS in Business Administration. Once she started going to an esthetician, she was shocked at how much taking care of your skin professionally could help. She quickly turned that into her passion and joined the AMA family in April of 2021 after working in aesthetics already for years.
She enjoys the science behind it all and works with lasers and devices that make big changes. She takes pride in being a perfectionist. If you know Tricia, you love Tricia.
---
WE OFFER THE HIGHEST QUALITY OF PRODUCTS
To get effective results that last, it is imperative to use top-of-the-line products alongside patented tools.
FOR FILLERS, WE USE:
Juvederm® Facial Fillers: Juvéderm Plus, Juvéderm Ultra Plus, Voluma, Volbella, and Vollure.
Restylane Facial Fillers: Restylane, Restylane Contour, Restylane Lyft, Restylane Refyne, and Restylane Defyne
Sculptra Aesthetic
FOR FACIAL SERVICES, WE USE:
The SkinPen Precision
Vivace Microneedling with Radiofrequency
Fraxel
Hydrafacial
Chemical Peels: VI Peel, Skin Medica Peels
FOR BODY SERVICES, WE USE:
CoolSculpting
Sclerotherapy
FOR SKINCARE PRODUCTS SOLD AT AMA:
Not only do we use top-tier products for our procedures, but we also sell products that you can purchase online or shop in the office. When picking out products that we recommend to our customers, it was of utmost importance to us to only sell what we believe in. Therefore, everything we sell online and in-office has a special meaning to it being available for you to purchase.
We have done the work for you. We know what works best for a certain skin problem. We know what works best together. We have done our own research to understand each product we offer, which takes the work out for you! Below are a few of our favorite products that our employees swear by: