Ask a Provider at Ashley McFarland Aesthetics for help with any Skin Care Concerns or Starting A New Skincare Routine
Building and sticking to a new skin care routine can be intimidating.
Are you tired of trying products that don't work, break you out, or just overflowing your product drawer? Unsure of what medical grade products are and what ingredients are best for anti-aging?
We have done our best to simplify the process for you! If you are serious about having great skin, want real results & to use ingredients that work, we have your answers!
At AMA we have simplified the perfect anti-aging Skin Routine to the "Big Five of Skin Care" that every routine needs to include for optimal skin care results!
Here's our guide to the "Big 5 Of Skin Care" to get you started on the essentials!
1: Daily Sunscreen
2: Retin A/ Retinol/ Retivance
Retin A/Retinol/Retivance eliminates and reduce signs of aging, improve appearance of fine lines and wrinkles and improve skin texture! We recommend Obagi Tretinoin Cream, which is a prescription strength product. Tretinoin is used for treating acne and sun-damaged skin. It can also help improve the appearance of surface wrinkles, fine lines, and dark spots. ZO Skin Health Wrinkle & Texture Repair is another staff favorite of ours. Wrinkle + Texture Repair is a deeper penetration retinol that reactivates the process of skin renewal to restore natural hydration, visibly improving the appearance of wrinkles and refining skin texture.
3: Vitamin C
Vitamin C is a potent antioxidant, it protects skin cells from damaging free radicals caused by UV exposure. It also helps to lighten hyperpigmentation, discoloration, even out skin tone, and enhance skin radiance. Obagi Professional-C Serum is a great option as well as ZO Skin Health Vitamin C. We recommend ZO Vitmain C to our pregnant & nursing patients to give that extra pregnancy glowy skin.
4: Glycolic Acid/AHA/BHA/Exfoliant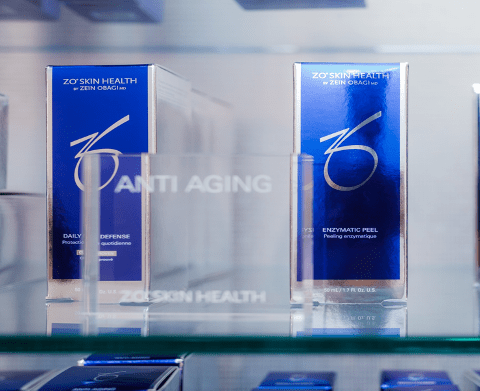 As we mature, our cell turnover rate slows down. Which means that our body is slower to shed dead skin cells and generate new ones. When we have old skin cells still on the surface of the skin, it can begin to make the skin look dull, rough, and dry. The ZO Skin Health Enzymatic Peel is an at-home peel formulated to create a softer, brighter, skin appearance. (Use 3x a week!) Another option is Obagi Exfoderm Forte, which is a chemical exfoliant. This product reduces the visible signs of aging. Using Glycolic and lactic acids to remove dead skin to promote new cell growth, diminish hyperpigmentation, and smooth away fine lines and wrinkles.
5: TNS Growth Factors/Hyaluronic Acid
Growth factor products are essential for overall skin health & to help our skin function at its greatest capacity. Growth Factors are one of the best active ingredients for total skin rejuvenation. We have 2 growth factor products that we love!
SkinMedica's TNS Recovery Complex uses growth factors to visibly smooth, tone and firm the skin. This product rejuvenates the skin, reduces the appearance of fine lines and wrinkles, and enhances skin's texture and tone.
ZO Skin Health Growth Factor Serum is a lightweight gel that strengthens skin, supports skin rejuvenation and protects against future signs of aging.
Growth Factors are a MUST for all patients who are ready to take their skin to the next level!
Questions?
Figuring out a new skin care routine can be daunting, but finding the right products are worth it! We recommend talking to one of our providers here at Ashley McFarland Aesthetics to determine your perfect skin care regimen.